Beautiful specimens of agatized coral have been known from the Ballast Point area of Tampa Bay since the late nineteenth century. These specimens are actually chalcedony pseudomorphs after coral or aragonite (the mineral which made up the original coral skeletons). The exterior detail of specimens from this and other locations is often preserved in exquisite detail, thanks to the silicification process. However, interior detail of the original coral skeleton is often obscured in geodes, replaced by chalcedony and white common opal. At many locations, other silicified fossils such as mollusks, mangrove roots and crustaceans can also occasionally be found.
Agatized and silicified corals are largely associated with Tertiary marine sedimentary formations from the eastern Florida Panhandle and nearby South Georgia through Central and West Florida, as far south as Sarasota County. Calcified corals have been found in several Southern Florida localities. Most of the major deposits seem to occur in upper Oligocene to lower Miocene shallow marine limestones and marls. With rare exceptions, most collectible locations occur in the subsurface, and are discovered along river channels or from dredging and other human excavations.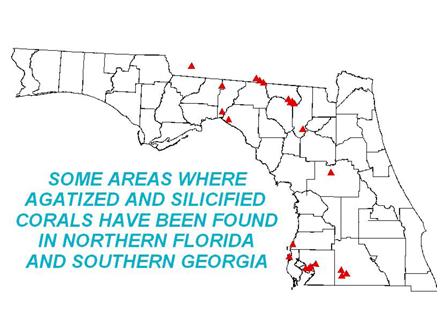 The best agatized coral geodes have been collected from localized deposits in the lower St. Marks Formation near the Aucilla and Econfina River basins in coastal North Florida, from Hawthorn Group formations exposed in the bed of the Withlacoochee River near the Florida – Georgia border, and from the Tampa Member of the Arcadia Formation (Hawthorn Group) in the Tampa Bay – Dunedin area of west central Florida. Beautiful solid silicified / agatized coral heads have long been known to occur along the banks of the Suwannee River and it's tributaries in the vicinity of White Springs. These specimens (mostly colonial coral "heads"), when sawn across the "grain", can show incredible detail reminiscent of some well-preserved petrified wood specimens. Unlike the agatized coral geodes, individual coral septae can often be seen preserved in solid silicified/agatized specimens. Pieces can be found in almost any imaginable color, and were a favorite knapping material of Native Americans, as seen in the many stone artifacts collected from the region.
Many Florida agatized coral locations, once open to collecting, are now closed. The best remaining collectible areas are along the causeway and beaches of Honeymoon Island State Park near Dunedin, the river bed and banks of the Suwannee River in the vicinity of and downstream from White Springs, and the bed of the Withlacoochee River near Clyattvillle, Georgia. River collecting is best during times of low water. In addition, small creek beds and quarries in many North Florida counties sometimes expose collectible agatized/silicified corals in small quantities.