Our family of 3, Gary, Lory and Gena, have a passion for field-collecting minerals. Together, we enjoy outdoor activities that almost always include mineral collecting. We love to travel and usually schedule our trips around collecting possibilities.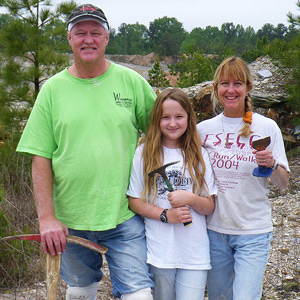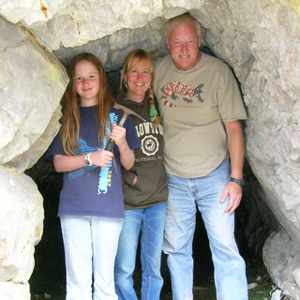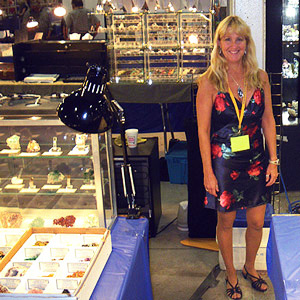 Gary Maddox
Gary Maddox, a Professional Geologist working for the State of Florida, has been an avid mineral collector since childhood. Gary has field-collected throughout the United States, particularly in the southeast. He has a keen interest in minerals from the Spruce Pine Pegmatite District of Western North Carolina, where he spent many youthful summers collecting at the many active and abandoned mines of that area.
Lory Maddox
Lory Maddox enjoys collecting, and has added her unique artistic touch by using a variety of acquired specimens for jewelry and for gem tree bases. Lory's beautifully crafted wire-wraps include small mineral specimens, gemstones, and minerals preformed and tumbled by Gena through a process that takes months. Lory has an Etsy account where you will find a variety of gem trees and handcrafted wire-wrapped pendants: https://www.etsy.com/shop/LorysNaturalDesigns?ref=hdr_shop_menu
Gena Maddox
Gena Maddox is also a collector, and is in charge of "Gena's Rock Shop – Great Specimens at Allowance Prices" – our discount mineral show section for kids (young and old), with everything priced $9.00 or less. She is also our rock tumbling expert, supplying Lory with tumbled stones for wire-wrapping and inexpensive specimens for shows. Gena has been field-collecting with her parents since before she could walk. She learned to rock climb at a very early age during our almost-weekly trips to Rucks' Pit from 2003 – 2007, and was a big help in our mining efforts there. She loves to travel, especially to the mountains! Gena has her own personal mineral and fossil collection, and prides herself on adding specimens to it.
We offer a wide variety of worldwide specimens, specializing in North American, particularly, Southeastern U.S. minerals.
Being located in the Southeastern part of the US, we strive to offer fine mineral specimens from our region, as well as worldwide. We are one of the original commercial miners of the uniquely exquisite golden-orange calcite crystal–filled clam fossils from Florida's Rucks' Pit, and we continue to offer top quality specimens from this now-defunct locality. We also field-collect Florida and Georgia agatized corals, and cut and polish them in our lapidary shop, for sale as collector specimens.
Payment for items placed in the cart are via PayPal.
Since Internet sales are basically non-negotiable, I post minerals at my lowest retail price. Discounts are offered only to motivate buyers to purchase 4 specimens at a time, because it reduces labor in packing shipments. Customers purchasing 4 or more minerals at one time, we extend the following discounts:
- 10% off on orders over $200
- 15% off on orders over $400
- 20% off on orders over $600
These discounts do not apply to single specimens priced above these values, only on purchases of 4 or more minerals. These discounts will be refunded back to you, following your payment in PayPal.
Discounts do not apply to orders with multiple payment methods or accumulate over multiple purchases.
GUARANTEE: All specimens are subject to prior sale and sent "satisfaction guaranteed". If you are not satisfied with your specimen and want to return it, please notify us within 14 days of receipt for a full refund, excluding shipping and handling costs. All returns must be insured.
Thanks for Stopping By and Come Back soon!
To be added to our mailing list, please send us your email address at This email address is being protected from spambots. You need JavaScript enabled to view it., and we will notify you each time we add new specimens to the website!